Keep the cold in and the hot out.
Spray Foam Insulation
Keep it Comfortable
Keep the cold air inside and the hot air outside. Foam insulation provides the necessary air seal to keep indoor temperatures consistent across the rooms of your home and business all year, no matter the season.
Save on your Power Bill
Heating and cooling of your home makes up roughly 50% of your power bill each month! Good insulation makes your home more efficient, allowing your HVAC unit work less, and thus putting more money into your pocket every month. And did we mention it's eco-friendly?
Reduce Noise
Have a business or just want it be more quiet in your own home? Open cell spray foam has the ability to significantly reduce noise. The open cells inside the foam minimize more noise than other types of insulation. Now you can you listen to your music louder than ever.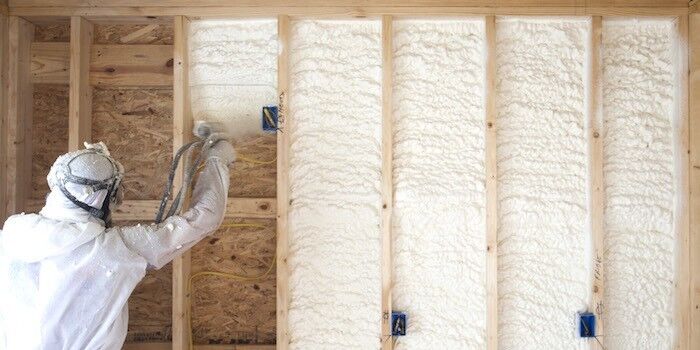 According to the North American Insulation Manufacturers Association (NAIMA) there are roughly 90% of existing homes that are under insulated. That means that you have a 9/10 chance your home is under insulated as well. These homes are wasting energy, wasting money, uncomfortable and in need of some serious insulation. Low attic insulation sets home owners up for a losing battle during the heat in the summer and cold in the winter. This is where we can help.
What is spray foam insulation?
Spray foam insulation, also known as foaming insulation or sprayed insulation, is a two-part liquid insulation material that insulates and air seals wherever it is applied. The material comes in two large 55 gallon drums – an iso and a resin. These two liquids are kept separate until applied at the jobsite by a qualified, licensed spray foam installer. The two liquids travel up through a heated hose to the spray gun where they are combined to create the foam. The foam expands within seconds to fill the cavity surface. Depending on the type of sprayed-in foam insulation used, closed-cell or open-cell, the foam expands between 40 and 100 times its size upon application.
Open Cell Spray Foam
Composition: Light
Expanding: High
Blowing Agent: Water
Moisture Permiability: YES
Sound Dampening: YES
Air Seal: YES
R Value Per Inch: R
Cost: $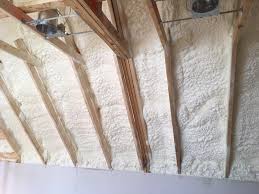 Closed Cell Spray Foam
Composition: Dense
Expanding: Minimal
Blowing Agent: Chemical
Moisture Permeability: NA
Sound Dampening: Minimal
Air Seal: YES
R Value Per Inch: RR
Cost: $$
Open Cell Spray Foam vs Closed Cell Cost
The cost to insulate an entire existing home with spray foam varies by factors such as the size of the insulated area, difficulty of the job, thickness of foam applied, and type of foam used.
Let's take an apples-to-apples look at a cost comparison between open cell and closed cell spray foam.
Say you have a 1,000-square-foot attic that you'd like to get spray foamed. The cost for 7-inches of open cell, including removal of old insulation, would be in the ball park of $5,250. Now if you were to install closed cell into the same attic at the same depth, it would cost upwards of $10,350. It's important to note here that for closed cell spray foam we would normally recommend 5-inches of the product which would come in around $8,350.
Here's another open cell spray foam vs closed cell cost comparison using a crawl space.
To install open cell spray foam on the walls of an average 800-square-foot crawl space at 3-inches would cost around $2,350. For the same crawl space installing the same depth of closed cell spray foam would run $3,700, but we would normally recommend 2-inches of the material which would be in the $2,900 range.
Installation of open cell spray foam is much easier and the foam itself is less expensive to produce, therefore the cost of open cell is less expensive. Closed cell spray foam, besides being more expensive to make, must be applied in thinner coats, often requiring several passes which can drive up installation time and cost. At the end of the day, each home is different and has its own obstacles so fill out your information so we can have a technician come out and give you a free quote.
Out with the OLD. In with the NEW.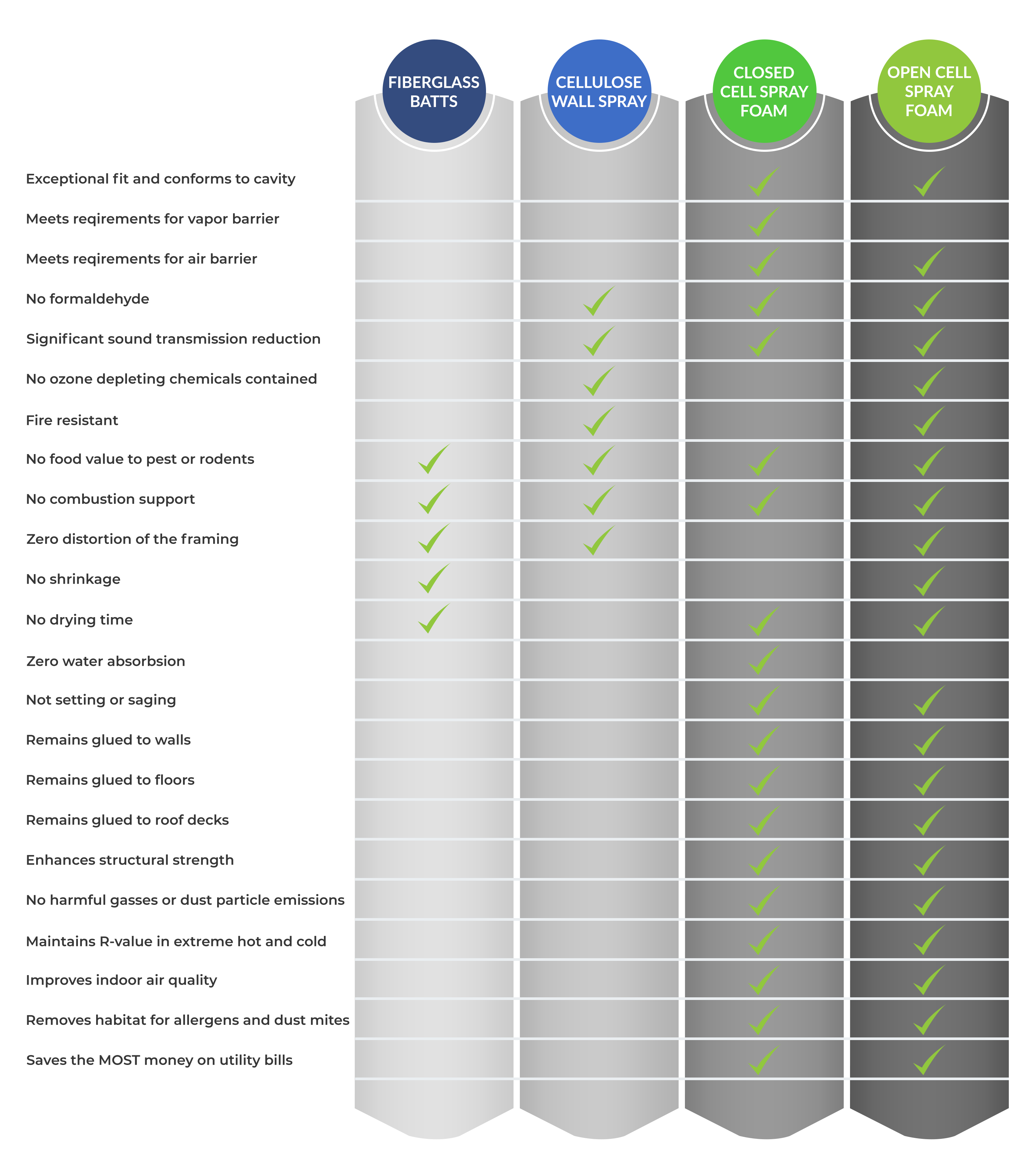 Request a FREE Estimate
We will reach out promptly to schedule a technician to come out to your property for your home or business needs. Feel free to call in for more information on your particular property.